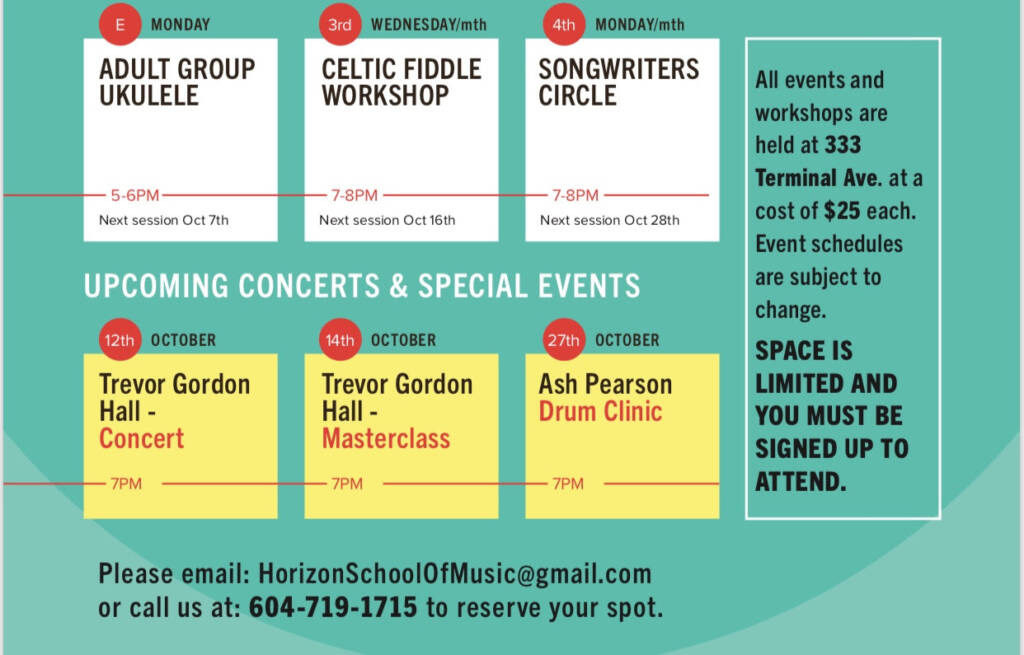 Did you know that you can sign up for lessons and group events simply by logging into your mymusicstaff student portal and selecting the calendar icon? All of our upcoming events are listed there and you can browse the event descriptions to sign up for the workshop of your choice.

September & October

All workshops are held at 333 Terminal Ave. at a cost of $25 each. All scheduled events are subject to change. Space is limited and you must be signed up to attend.

1) Kids Rock Camps

-Every Saturday between 12-4pm
The Kids Rock program is a fun, interactive way that encourages younger musicians to explore various instruments while developing team building skills. Students are placed in small groups based on age and experience level. We use a combination of rhythm building exercises, musical games and explore multiple instruments to inspire the early development of children's musical creativity.

2) Adult Group Guitar For Beginners

-Every Monday between 7-8pm
Perfect if you're just getting started or want to kick your learning curve into a higher gear. This format allows you to learn in a fun and cost-effective way. Feel free to invite a family member or friend for an even more rewarding experience.

3) Primal Co-ordination Drum Workshop

-The third Monday of each month
The next session is on Monday, Sept. 16th
Julia Geaman's goal for this drum workshop is to get beginners and intermediate players familiar with all 40 Essential Rudiments. This high energy class also serves as a replacement for your daily gym workout. Everyone wishes they could play the drums and yes, they are as fun as they look.

4) Bluegrass and Roots Jam

-The third Tuesday of each month
The next session is Tuesday, Sept.17th
Easily one of the most fun group dynamics to participate in, Bluegrass has become the "go to" for people who want to have fun while they jam with others.
Learn how to improvise over driving upbeat rhythms and add this timeless style to your jamming arsenal. Perfect for newer players looking to help improve their chords and rhythm playing. Also great for intermediate and advanced players who would like to expand their melodic improvisation skills.

5) Jazz & Blues Guitar Workshop

-The fourth Tuesday of each month
The next session is Tuesday, Sept.24th
Ever wondered what it would be like to find musical freedom on your instrument? This course is perfect for players who are looking to expand their musicality. Learn your instrument through improvisation and pick up rhythm techniques from one of the most sought after guitar teachers and players in Vancouver.

6) The Metal Guitar Consortium

The fourth Wednesday of each month
The next session is Wednesday, Sept.25th
Practice strategies, efficient mastery of technique and state-of-the-art metal guitar chops will be dissected. If you've hit a wall in your playing and are looking for inspiration, the consortium will help push your playing beyond what you thought was possible!

7) Sight Reading/Ensemble Guitar Workshop

The fourth Thursday of each month
The next session is Thursday, Sept.26th
Learn shortcuts and effective strategies to boost your reading abilities. Practicing these skills in a group setting is not only more exciting and fun but also pushes your skill development and musically to a much higher level.

8) The Guitar Gathering

The fourth Friday of each month
The next session is Friday, Sept.27th
The Guitar Gatherings are an exciting and affordable way to learn and make new friends in the process. Part workshop, part jam and part open mic, this is an all-inclusive get together of musicians who are looking to add a social element to their musical lives. Players of all levels and style preference are welcome to join this memorable event.

9) Adult Group Ukulele

Every Monday Night from 6-7pm starting in October.
The next session is Monday, Oct.7th
Nothing beats a Ukulele for portability and spending relaxing days on the porch, the beach or jamming with friends. Rocky Riobo brings her extensive talents and warmth to this weekly group. Adults of all levels are welcome. Bring a friend or family member for an extra memorable experience.

10) Songwriters Circle

The 1st Monday of each month starting in October.
The next session is Monday, Oct.7th
This workshop is designed to help up-and-coming songwriters learn creative strategies and stock up the inspiration required to unlock their own writing. The first workshop dives into the iconic influence of the Beatles and will be hosted by Jeff Bryant.

Jeff has built his own career as a singer, guitarist and songwriter, each step of the way, by returning to the basic principles The Beatles embodied: intuition over theory, borrow from those that inspire you, evolve or die. In this course, Jeff will aim to support you in your goals to play with more confidence, sing like yourself and write songs that are catchy and honest.

11) Celtic Fiddle Workshop

-The third Wednesday of each month
The next session is Wednesday, October 16th
Apply your violin playing to the world of Celtic fiddling, and have fun learning instrumental music with other players. Celtic tunes, which come from Ireland, Scotland, Canada, and many other nations and cultures, are straightforward enough to welcome all ages and abilities. This group will build a repertoire of the most well-known Celtic tunes. This workshop also welcomes other instrumentalists, besides violinists, who want to play this genre. Guitar and/or piano accompaniment provided.