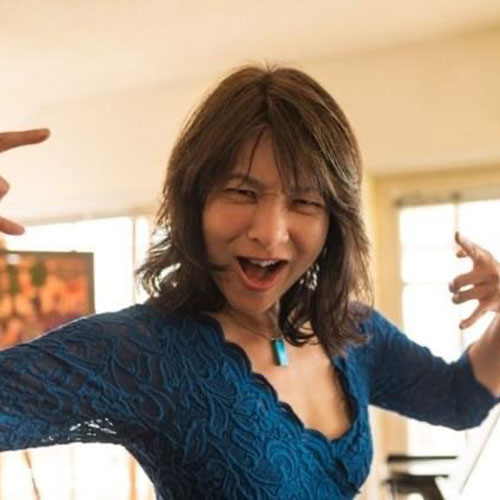 Elaine Joe
Elaine Joe works as a performer, accompanist, composer, and a teacher. She plays for four choirs ranging from the Highs and Lows in the mental health community, to the Ukrainian Barvinok Choir. Her experience over an eclectic range of styles, from Folk, World, Classical, Broadway, Jazz to Popular tunes equips her to teach a diverse body of repertoire.
Elaine started Royal Conservatory of Music (RCM) piano at the age of four.  At age nine, she studied under Edward Parker, teacher of world renowned concert pianists Jon Kimura and Jamie Parker.  By age ten she won the silver medal across Canada for the highest RCM mark in grade six. 
In the same year at Courtenay Youth Music Camp, an acclaimed school for fostering young musicians, she performed with her first string quartet and opera singer.  She was mentored by Robert Silverman, a Canadian pianist well known for his pedagogy.
Competitively Elaine performed from 1977 to 1979 in the Burnaby Clef Society, Kiwanis, Coquitlam and North Shore Music Festivals.  She won the J.G. Skorah Challenge Trophy, 1st Place in 20th Century Composers and 1st Place in Duets with her brother, three years in a row. 
Having reached grade 10 with the RCM, Elaine decided at age 14, that it was time to learn a new genre of music.  She then studied Popular piano for two years to learn chording and left hand patterns. 
Since then Elaine has played piano with a diverse group of choirs, singers, guitarists and violinists.  She's played keyboard with the "10th Ave Trio", organ and accordion with the funk band, "Lovedrunk" and improvisational accordion with the Spanish group "Sureando".
On the vocal side, Elaine runs section rehearsals regularly with two of her choirs and engages in vocal training, a tradition carried through from high school when she coached the musical leads through their vocal parts.
As an innovative teacher who uses fun, alternative methods to get you through your blocks in a kind and compassionate manner she says, "I play at being:  Curious, inquisitive, fun and imaginative in a relaxed and enthusiastic manner. I'm happy when my students 'get it' by having that 'ah ha moment' or nailing it!"
When performing solo, she likes to play music to transmit the composer's brilliance of the piece, then use her interpretation of it to evoke a sense of feeling in her listeners. Be it joy, angst, love, nostalgia or playfulness, she wants you to feel something.
In her spare time, she enjoys getting into mischief, dances, plays djembe on the beach and is learning cello. Her latest ventures include hosting "Art Heals", a mental health podcast, and composing accordion and piano music with a talented viola player.
Away from the music, she can be found on the mountain snowboarding, x-country skiing or rollerblading in the summer.  She has a passion for treehouses and sometimes practices in the trees.  In her quiet time she practices Qi Gong and writes poetry.
Ready to Get Started?
Take a look at the available lessons with our award-winning instructors.